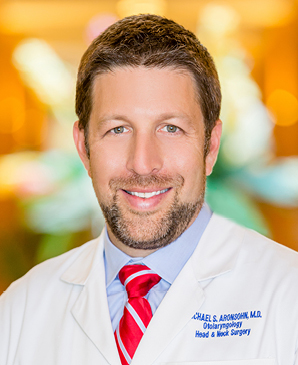 Michael S. Aronsohn, M.D.
Dr. Michael S. Aronsohn is the President and Chief of the Medical Staff at Boca Raton Regional Hospital. He is a graduate of the University of Florida, College of Medicine where he also completed his general surgical internship and Otolaryngology – Head and Neck Surgery residency. He is Board Certified by the American Board of Otolaryngology. Dr. Aronsohn's extensive surgical experience has allowed him to participate in medical mission trips to the Philippines and Haiti providing help to those with little or no access to medical care. He currently sees patients at the Boca Raton Sinus & Allergy Center and also maintains privileges at Boca Raton Regional Hospital.
Dr. Aronsohn is married to his wife, Andrea, an elementary school teacher, and has a son and daughter. He also has 2 dogs, Lily, a golden retriever, and Phil, a rescue dog. In his spare time, he enjoys being with his family and rooting for his beloved Florida Gators.
Certifications
American Board of Otolaryngology, Board Certified Diplomate
Education
University of Florida, Gainesville, Florida
Department of Otolaryngology – Head and Neck Surgery
Resident and Chief Resident (2000 - 2004)
University of Florida, Gainesville, Florida
Department of Surgery
Surgical Internship (1999 - 2000)
University of Florida, Gainesville, Florida
College of Medicine
MD with Honors (1995 - 1999)
Leadership Positions
President and Chief of Medical Staff (2018-Present),
Vice President and Vice Chief of Medical Staff (2016-2018),
Chief, Department of Surgery, Boca Raton Regional Hospital (2012 - 2015)
Honors & Awards
AOA Honor Medical Society, University of Florida
Phi Beta Kappa, University of Florida
Boca Raton Regional Hospital Physician of the Month, December 2008 (Selected by Physician Peers and Staff of Hospital)
Current Staff Appointments
Boca Raton Regional Hospital
Boca Raton Outpatient Surgery and Laser Center
Publications
Aronsohn MS, Brown HM, Hauptman G, Kornberg LJ:  "Expression of Focal Adhesion Kinase and Phosphorylated Focal Adhesion Kinase in Squamous Cell Carcinoma of the Larynx", Laryngoscope 113: 1944-1949, 2003
Aronsohn MS, Antonelli PJ, Mancuso A: "Extramedullary Hematopoiesis Presenting as a Middle Ear Mass", Otology and Neuotology24:  963-964, 2003
Aronsohn MS, Stringer SP, Brown HM: "Utility of Image Guided Surgery in the Diagnosis of Pterygopalatine Fossa Lesions", Laryngoscope 114: 424-427, 2004
Presentations
"Oral Cavity Cancer: Diagnosis, Management, and Treatment" North Palm Beach County Medical Society - 2008
"Parotid Neoplasm" Boca Raton Regional Hospital Grand Rounds - 2007
"Surgical Care of the Head and Neck Cancer Patient" Boca Raton Regional Hospital – 2005
"Head and Neck Cancer" Fox News, One Minute Pearl - Televised 2005
"Utility of Image Guided Surgery in the Diagnosis of Pterygopalatine Fossa Lesions" Triologic Society, Southern Section - January 2003, Naples, Florida
"Cholesteatoma" Department of Communicative Disorders - February 2002, 2003
"Disorders of the Larynx and Upper Trachea" University of Florida College of Medicine Physician Assistant Program - February 2002, September 2002
Professional Memberships
Florida Society of Otolaryngology
American Academy Otolaryngology – Head and Neck Surgery
American Board of Otolaryngology
Co-founder and Member of Lynn Regional Cancer Center Multimodality Head and Neck Tumor Conference
Boca Raton Community Hospital Peer Review Committee
Fellow, American College of Surgeons
American Head and Neck Society